Amateur Radio Digital Net Pro
Announcing the very first achievement certificate for the KAPIHAN Network—
Amateur Radio Digital Net PRO
.
This achievement certificate is granted to the stations who fulfill the requirements, practiced and demonstrated that they have what it takes to be an Amateur Radio Digital Net Pro.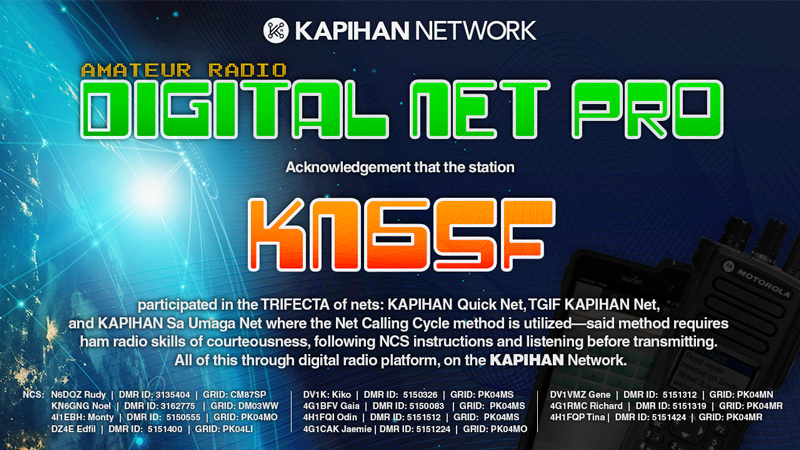 QUALIFICATIONS FOR THE CERTIFICATE:
The station must check in to the ALL three nets utilizing the Net Calling Cycle - KAPIHAN Morning Quick Net, TGIF KAPIHAN Net and KAPIHAN Sa Umaga Net (Previously DX9BC Morning Net).
Only actual individual check ins are counted—this means that relay or proxy check-ins, as well as Facebook Messenger and Facebook Live comments are not counted.
Must practice "Ham Radio skills of courteousness, following NCS instructions, transmitting only when the NCS directs, and more importantly, listening before transmitting.
Certificates will be issued once a week. Station qualification will be ongoing for the lifetime of the aforementioned nets.
GOALS:
Practice and train for Emergency Ham Radio operations
Re-establish the important roll of the Net Control Station
Achieve clear and concise communication
Promote and practice good Ham Radio etiquette
ABOUT THE NET CALLING CYCLE
The Net Calling Cycle was installed to accommodate all stations and alleviate station pile-ups and to allow clear and concise communication between the Net Control Station and the stations checking in.
The net is be divided into rounds-and they are as follows:
YL Stations and Stations outside the Philippines
YL Stations and Stations from district 1, 2 and 3
YL Stations and Stations from district 4, 5, 6 and 7
YL Stations and Stations from district 8
YL Stations and Stations from district 9
Once the cycle is complete, it starts over again. Remember to please listen first before transmitting and always be courteous.
Close to the end of the net when there are only a few stations left, call for any stations from anywhere on any mode.
View the stations' qualification status >
View issued certificates >
List and download the eQSL Files >