KAPIHAN Quick Net Beverage Club
Announcing the monthly
KAPIHAN Quick Net Beverage Club
achievement for the KAPIHAN Network.
This monthly achievement certificate is granted to the stations who fulfill the requirements of participating in the KAPIHAN Quick Net while having hot or cold beverage 80% of the net days.
QUALIFICATIONS FOR THE CERTIFICATE:
Check in to the KAPIHAN Quick Net while having a cold or hot beverage.
MUST provide photo proof of the station having a beverage on KAPIHAN Network Group Chat or private message.
Only actual individual check-ins are counted—this means that relay or proxy check-ins, as well as Facebook Messenger and Facebook Live comments are not counted.
If you checked into the net with a beverage from the previous month, you get one point towards the current month.
Certificates will be issued once a month at the beginning of the new month. Station qualification will be ongoing for the lifetime of the aforementioned net.
GOALS:
Enjoy the net and relax with a hot or cold beverage.
Promote a sense of community and togetherness while enjoying the company of others on the air.
BEVERAGE QUALIFICATIONS & CERTIFICATES 2022

ABOUT KAPIHAN Quick Net
The KAPIHAN Quick Net is held every Mondays and Wednesdays at 9pm Philippine Standard Time or 5am California or 8am Virginia, USA.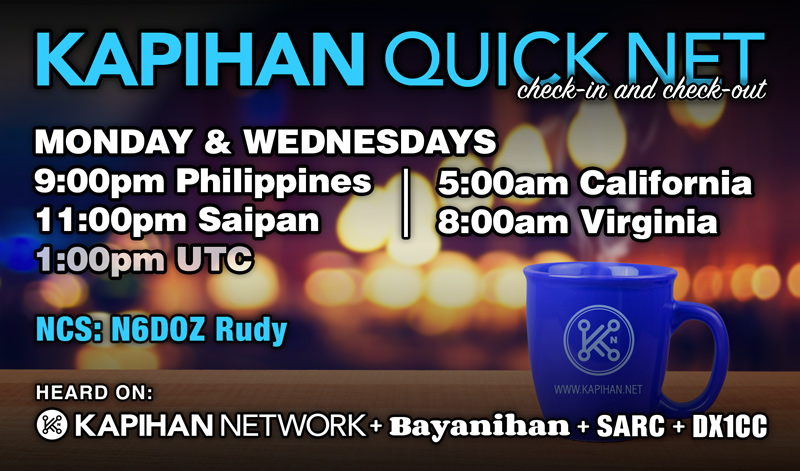 WESTERN HEMISPHERE - MONDAYS & WEDNESDAYS
(Standard Time)
5:00am California - Pacific
6:00am Texas - Mountain
7:00am Illinois - Central
8:00am Virginia - Eastern

ASIA/PACIFIC - MONDAYS & WEDNESDAYS

9:00pm Philippines Standard Time
11:00pm Northern Marianas Island Standard Time
UTC - 1:00pm - MONDAYS & WEDNESDAYS

View latest net logs >